Services -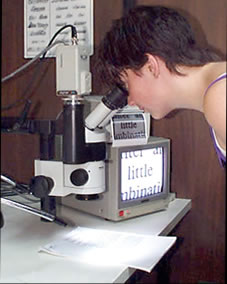 Examinations are conducted to determine the manner in which a document was prepared, by whom it was executed, when it was prepared and if changes have occurred since its production. Our areas of expertise cover:
Identification of handwriting, signatures, typewriting, photocopying and printed matter.
Distinguishing forgery from genuineness.
Analysing inks, paper and other substances that are combined into documents.
Detection of additions and substitutions on a document.
Restoration or decipherment of erased and obliterated writing.
Presentation of testimony as an accepted expert.
Providing advice on the effectiveness of security documents and printing.
Facilities -
A high standard of professional service is maintained using a modern and fully equipped document laboratory. A wide variety of documents are routinely submitted to our laboratory for analysis on equipment including the:
Wild Leitz binocular stereomicroscope used in conjunction with a Volpi Intralux fibre optic light source for the examination of all documents under relatively low magnification (in the range of 6x to 40x). This equipment is routinely used in handwriting and signature examinations.
Foster + Freeman Video Spectral Comparator (VSC) used in conjunction with a Rofin Polilight and connected to a computer via Foster + Freeman QDOS software for the optical examination and differentiation of inks and the restoration of obliterated entries under varying wavelengths of light, particularly in the infra-red region of the electromagnetic spectrum.
Foster + Freeman Electrostatic Detection Apparatus (ESDA) for the restoration of latent indentation impressions indented onto the paper surface.
Another service offered is the intercomparison of inks using Thin Layer Chromatography (TLC). Using this process allows for the accurate discrimination of ink formulas and reduces the possibility of false matches of ink samples from different sources or incorrect differentiation of ink samples with a common origin.
Our laboratory has the Haas Atlas of Typewriter Typestyles. This Atlas consists of type specimens and dates of production of all typewriter typefaces from about 1920. The Atlas is used as an aid in typewriter comparisons by typestyle identification and dating of typewritten documents. It is the most comprehensive reference collection available and is up dated on a regular basis.
The Typewriter Typestyle Classification Program (C:\TYPE) developed by Dr Phil Bouffard is also used in conjunction with the Haas Atlas of Typewriter Typestyles as a further aid in typewriter examinations.
No other laboratory in Australia has all these resources to conduct such a comprehensive examination of typewriter typestyles.
Our other reference collections include:
A Collection of Fax Fonts, Parts I, II.& III. This reference collection is used for identifying the TTI headers on facsimiles.
SpecCheck Guides for Printers, Copiers and Facsimiles. These guides are used to determine the makes and models of printers, copiers and facsimiles available in the market.
Extensive library of Typefaces for the identification of computer generated fonts which is used in conjunction with the FontFinder Software for their identification.
Our own collection of over 3000 articles covering all aspects of document examination.
Database and hardcopy reference collections giving us access to over 5500 articles worldwide on document examination.
Total confidentiality on all matters is assured.